REPAIRS AND RESTORATION TO CLUMBER CHURCH IN 2017 - PAGE 2
THE ARTISANS
  We pay homage to these gentlemen who have undertaken the repair and restoration of the Clumber Church building with such professionalism and who have delivered exceptional results. Without their dedication we would not be in the enviable position of being in the state of completion we are in today. Ian Rudman undertook the disassembling of the steeple and involved so many Port Alfred businesses in the process. Ian also reworked the degraded woodwork in his workshop in Port Alfred and then reassembled and rebuilt the entire structure. Mark Vogler has undertaken the replacement of the roof. Thereafter he completed the exterior and interior repainting as well as the repair, sanding and resealing of the interior flooring as well as the pews.  We have been blessed in having the services of such professionals. Thank you gentlemen for a job well done.

CLEARING BUSH FROM THE COMMON AND CHURCHYARD FENCING
Whilst the clearing of bush cannot be classified as a repair, nor a restoration, the clearing of encroaching bush on the Clumber Common and the perimeter fencing is essential to restoring order to the Clumber Church grounds. The wattle and thorn bush infestation can only be controlled by removal and this has been an onerous task for the staff of Alan Pike and Brandon Handley. They have cleared huge swathes of bush from the perimeter fencing and the Common as evidenced by the photo above. The Clumber Church can now clearly be viewed on approach and we look forward to further progress in July as a contractor comes onto site to assist in the clearing process. There is still a large area to be cleared as evidenced by the photos below.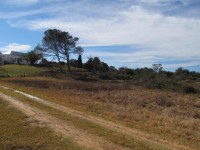 The Access Road To Clumber Church
INVASIVE WATTLE AND THORN TREES ARE CLEARED FROM WHAT SHOULD BE OPEN GROUND
  A major task is almost complete. The Common and the access to the Torrens River has been cleared of wattle and thorn. The cut trees and bush is spread in clumps across the Clumber Common to dry. All the cut stumps have been painted to prevent further germination. The difference in the landscape is quite remarkable with expansive views from the Church.  Below are two sections of photographs. The top row is "before" and the bottom row is "now"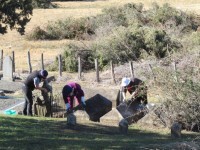 Working Hard Scrubbing Down the Graves
THE CLUMBER GRAVEYARD IS WEEDED AND PLANTED AND THE GRAVESTONES WASHED AND CLEANED
A major portion of the graves are now cleaned. We had a wonderful response to our request for volunteers to assist us in our task of attending to the Churchyard. It was so heartwarming to see people swarming in to the graveyard and simply "doing work". Some were cleaning graves, others were weeding flower beds, others were planting. What a wonderful day it was. Thank you to all who helped.