IN THE PERIOD OF ESTABLISHING THE FIRST TWO CHURCHES 1820 - 1866
ESTABLISHING THEMSELVES AND THEN THE DEVASTATION OF THE FRONTIER WARS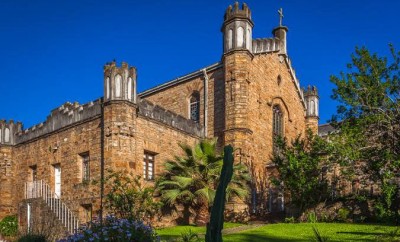 St Patrick's in Grahamstown where the Settlers took refuge 1834/5
Prior to a Church being built, in the period 1820 to 1824, Services were held either on Mount Mercy where the current Church is situated, or  under a large tree near to the home of John Bradfield, a mile West of Mount Mercy. In inclement weather Services were held in William Pike's home a quarter mile to the East of Mount Mercy.
The first Service conducted by an ordained Minister was held on 11 January 1821 when Rev William Shaw visited Clumber. At that Service he baptised Thomas, son of George and Edith Palmer. By April 1821 a Preaching Plan for the various locations became possible. This plan commenced on 8 April 1821 when Richard Gush preached at Clumber Church followed each Sunday thereafter by John Dold, John William Shepstone, Phillip King, John Ayliff, Richard Walker and John Oates.
By 1823, however, the Congregation had quite lapsed, as had the Preaching Plan. William Pike, unable to gather them together, continued his work in other locations. He was, however, induced by Jeremiah Goldswain to try again, and so he resumed Services in 1824. The response he received was positive and it was not long before he had to hold Services weekly in his home, which was filled.
By early 1825 the location had been surveyed into allotments, and Number 18, three morgen, which included Mount Mercy, was allocated for the erection of a Church. This was later vested in the Wesleyan Conference. There was a requirement that the larger Parties, such as the Nottingham Party , should provide public places for use, not only for their own people, but for neighbouring smaller Parties, and in this respect Mount Mercy was eminently suitable being accessible for the Dyason, Holder, Bradshaw and Hayhurst Parties. Thus the promoters felt justified in launching an appeal signed throughout Lower Albany calling on the government to provide a stipend for a minister. 
After the site was taken over by the Wesleyan Conference, further awakening the interest of the people in the district, a committee was formed to open a subscription list for a building fund. Donations came in the form of materials, including bricks, rafter beams, door timbers, and thatch, and some money. Others gave their labour. All this enabled the committee to avoid any serious indebtedness. Maybe it was not the most comfortable place, but the project was a success, and a simple building was completed with a capacity in excess of 100 people. No longer were they crammed into William Pike's restricted abode, but they all appreciated his early attempts to form a congregation, which had begun on the vessel Albury.

The 100 seater Clumber Church, the first, situated some Metres North-East of of the present site, was opened on 28 September 1825, a mere 5 years after the arrival of the Nottingham Party at Clumber. William Pike, a framework knitter in Nottingham, who had assumed the role of lay pastor for the Nottingham Party on board the Vessel Albury on their journey from England to South Africa, continued his spiritual guidance once the Party settled at Clumber and was the driving force in establishing this, the first Clumber Church. 

There were occasional hazards, as when, on 16 April 1826 the congregation was disturbed by a herd of 40 elephants as they moved past the Church to their feeding grounds.

The first baptism in Clumber Church was that of George, son of George Hodgkinson, by the Rev Samuel Young on 24 September 1826. In 1827 John Ayliff was ordained as a Minister. An occasion in 1828 was the Memorial Service for Edye, wife of Aaron Aldum on 22 May when William Davis preached. By 7 October 1828 the Clumber Church was free of debt.

Early in 1829 William Pike became ill. A Service in which he could take part was held in his home by Rev John Ayliff. The Minister visited him again on the 17th. On the following day he died, and was buried near the Church he had served so well.

The Rev John Davis visited Clumber during 1830. The Rev John Ayliff was transferred, and Rev Samuel Palmer took charge in Lower Albany for 1831. There were now 25 children attending Sunday School. Rev William Satchwell was in charge in 1832 and Rev Richard Haddy in 1833. The congregation was growing, up to 55 people attending in 1834.

Disaster struck in 1834 when the Clumber Church and the Settler homes had to be abandoned during the Sixth Frontier War. On 23 December the people were ordered to concentrate in Bathurst where they were afforded protection. This protection was deemed insufficient and on 28 December they were taken in an escorted convoy to Grahamstown where they took refuge in St Patrick's Church. By the end of 1835, residents started to return. The Clumber Church was entered during the War in its abandoned state and suffered damage. 


So a second, 200 seater Clumber Church was planned, to be sited on the crown of Mount Mercy slightly higher than the first building and on 15 November tenders were called for the erection of a School Master's House, to be built adjacent to the new Church. On 31 December 1837 the new 200 seater Church was opened. A day school was also in operation in the new Church, with Thomas Peel of Trappes Valley, as Schoolmaster. 

Rev William Shaw came for the Watchnight Service in 1837 and addresses were given by Thomas Walker, George Barnes and John Usher, Local Preachers.

The Rev's John Cameron, John Richards and William Impey were visiting Ministers in 1839. The Annual Missions Service was conducted by Rev George Green on 3 March. Then there was a visit by two of the Society of Friends from York, James Backhouse and George Walker, who stayed with the School Master as his guests. They attended a Prayer Meeting, and a Service on 3 April, and visited the school two days later.

In 1845, with Rev George Green in charge, the Missions Anniversary Sermon was preached by Rev Thornley Smith. John Richardson, of Thorn Hill, who was married to Emma Tarr, made and presented a pair of iron gates for the Churchyard, incorporating his initials in the design. The Rev Henry Dugmore was Minister in 1844. Rev John Ayliff, a friend of Clumber of twenty years past, returned in January 1845, and Thomas Pike became Chapel Steward.

Towards the end of 1845 there were fears of another invasion. Early in 1846 preparations were made for the concentration of the people in a number of defendable Stations, an alternative to the mass evacuation of Lower Albany in the previous war. In March 1846 the Seventh Frontier War or "War of the Axe" began. In April the Clumber Church became the Clumber Command Station with Thomas Cockroft as Commandant so rather than evacuating the surrounding farms, the Clumber Church became the refuge for women and children while the men were on reconnaissance duties.

Martial Law was lifted in January 1847, but it was not possible to resume Services until March when the Rev H Pearse conducted the Missionary Auxillary Society Service.

In 1847 the following article in the local newspaper paid tribute to Mary Bradfield, wife of John Bradfield, who, with their family, emigrated to the Cape Colony as part of the 1820 Settlers:

"Died at Clumber on the 14th September 1847, Mrs Mary Bradfield in the 77th year of her age; deeply and sincerely regretted by her numerous family. Deceased was one of the British Settlers of 1820; her family consisting at that period of 7 individuals. During the 27 years which have elapsed, this family has sustained material by death, and yet at the present moment, it is found to have increased from 7 to nearly 50 souls- a striking instance of the rapid growth of population in this country! The memory of the deceased - the venerated mother of this family - will ever be cherished as a tender parent, a good neighbour, and a decided Christian." ( Grahamstown Journal)

William Cadwallader became Schoolmaster in January 1850, and also served as Local Preacher.


On 27 December 1850 the Eighth Frontier War began, and during this time the base camp was established on Edward Timm's farm," Prospect ", ( see below) as it was situated on a more open site and was easier to defend than the Church. By January 1851 most Clumber people were in the camp, living in wagons or hastily erected wattle and daub huts. William Cadwallader preached in camp on 19 January 1851. By November it was decided to go to the Church for worship only, whenever security conditions permitted.

War continued throughout 1852 but William Cadwallader carried on his preaching duties. Hostilities ended in March 1853. The Clumber Church badly needed repairs and Thomas Tarr and William Foxcroft were each paid 10/- for the work which they did. In June Henry Shone repaired the bell and cut two new poles to support it.

On 13 August 1854 Rev William Shaw preached the Anniversary Sermon, over 33 years since his first visit to Clumber. In a few months he was to leave the Colony, never to return.

With the congregation increasing and the Clumber Church being in such poor condition that enlarging it was impossible, the erection of a new Clumber Church had to be considered. In July 1860 with Rev Purdon Smailes in the chair, it was passed that a church of 45 feet by 20 feet should be built. 

In July 1866 the foundation stone was finally laid by Mr George Wood MLC and prayers offered by Rev George Green. And so the building of the third Clumber Church commenced. In August 1866 it was decided to incorporate a ten foot by six foot porch and a steeple.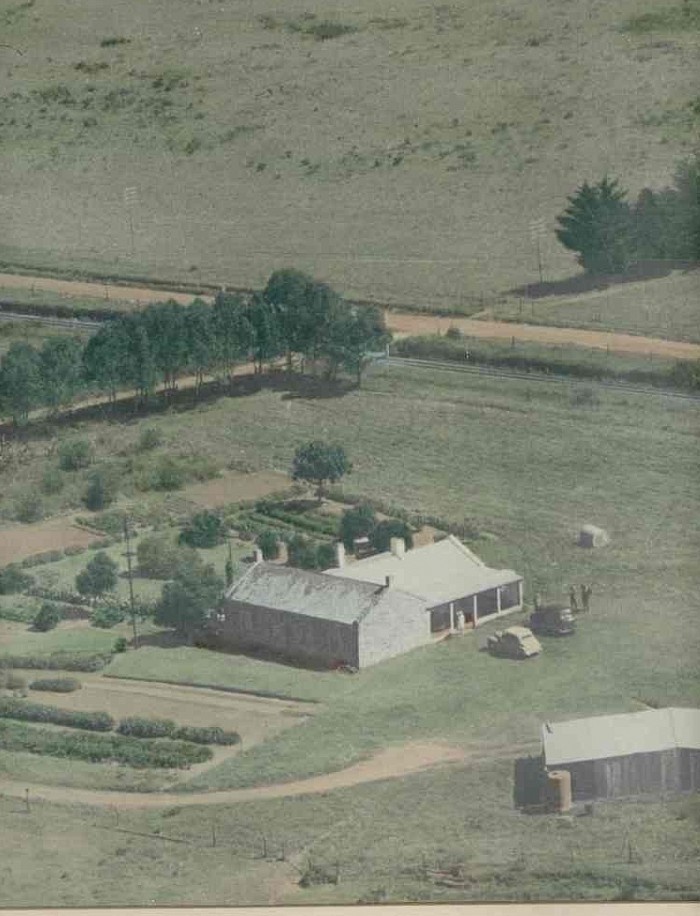 The farm "Prospect" in the 1950's - photo by kind permission of Jean Morgan. Her grandparents Percy and Florrie Timm lived and farmed here. The original home, on the left, is a stone structure built by Edward Timm, an 1820 Settler of Calton's Party.This open site was deliberately chosen as a defensive station for the people of Clumber during the Eighth Frontier Warsetting up camp here in wagons and hastily constructed wattle and daub shelters. This site is sill known as "Timm's Camp " in reference to this event . The original home is on the left of the photo with it's two gables, a hallmark of the early Settler homes. The home on the right of the original structure was added on later. In the bottom right corner is the kitchen , a structure of iron and wood