FUNDING NEEDED FOR PROJECTS TO UPGRADE FACILITIES AND INSTALL SECURITY 
An Appeal for Funds
Clumber Church appeals to the readers of this site to contribute to our drive to raise funds. At Clumber we look back with amazement at what has been achieved since December 2015 ; renovations to both School and Church which have been successfully completed. Yet, we have now had a total of 5 burglaries in only two years; this has crippled our advancement. It is imperative that we install some form of security to limit the damage which has been inflicted; not only to our possessions but to the buildings themselves. Please help us secure these two Heritage Buildings for future generations to enjoy.
BRINGING THE BUILDINGS INTO THE 21ST CENTURY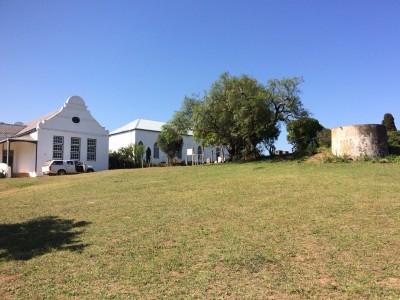 The Reservoir on the Right in this photo
Electrification of School and Ablution Facilities and Installing a Security System
This is primarily a  push for funds; we have completed renovations to the Church and grounds. In 2018 we concentrated on the old school which we use as a gathering place for fellowship and after Service teas. This old building has received more than a little TLC with cracks and damp attended to. The wooden floor in the foyer was rotten and cement had to be laid to secure the walls. We have now wired the building for electricity for electrical plugs and lighting for the very first time . Also, the need for toilets to service both Church and School is no longer a " nice to have " but essential. When we hosted Mark van Niekerk in October 2018 the strain on the usage of the 1 toilet in the Vestry by 84 people was very evident. The placement of the housing of two toilets and attendant wash basin has been identified- we will use the old reservoir which lies neatly between the Church and School so we will not have the hassles and the associated cost on altering either of the two Heritage Buildings . This conversion cost will be R20000. And then we require a 2000 Litre tank to supply the water . We are hoping to close these projects off in April 2019. Should you be able to donate in support of these projects kindly refer to the " Donate" tab on this website where the payment details are listed. Alternatively you can contact Courteney on 0760611025.
So far two toilet units as well as toilet furnishings have been donated for which we are very grateful. Also, we have received a substantial donation of all the lighting for the Old School. We have placed the installation of the water tank on hold as we do not have sufficient funds. In the interim we plan to purchase a pump which will transfer water to an existing small tank to which we are connecting the piping for the new toilets and wash basin. 
Funding is needed to cover the labour costs of our contractor as well as materials such as roofing, partitioning, cable, cement, paint etc.
Our contractor moved back onto site on 8 January 2019 and we hope that during the course of the following months we will be able to post photos of the work in progress. Unfortunately there has been unrest in the Bathurst township and this has been the prime factor in the delaying of these projects. Our contractor has a backlog of work and we have to wait our turn until his staff feel free to continue work without harassment by their colleagues.
A further delay has been the vandalizing of both Church and School in February 2019 when both buildings were forcibly entered and items were stolen and broken. Our contractor moved onto site immediately to secure both buildings but the rectification of the damage that has been done will now take precedent.  
Due to this incident, all projects have been placed on hold pending the finalization of the insurance claim.
HEARTBREAKING BURGLARY
Vandalization and Break-in at the Church and School
Damage and loss to the Church and School in February 2019 is estimated at over R20000. The Church door was booted and forced open. All the electrical wiring we had installed in 2017 was stolen. A beautiful , intact antique lamp in the Porch was smashed and stolen.
Both security doors, as well as a wooden door were forcibly opened to gain access to our strong room where the generator was stolen along with all the electrical extension leads. The old cutlery , an electrical speaker, a wheel barrow and a Yale lock were amongst the items that were stolen.
Upgrading of Facilities and Repair and Replacement of Damaged and Stolen Articles Recommences!
The Clumber Church Committee put all our projects on hold after the heartbreaking burglary in February 2019. Now that the burglary claim is being finalised in June 2019 and we know the amount we will receive, we have recommenced our projects. The first to be completed was the new ablution facility with toilet "furniture" like towel rail, mirror etc. We have also purchased a water tank which has been connected to the wash basin and toilet cisterns. This unit is now complete with doors hung and a total repaint both inside and out.
In the old School we have secured all the windows to deter break-in's and in the Church we have secured both of the Porch Doors with removable bars enabling both doors to be opened dependant on weather conditions.
The Vestry has also been the subject of renewal, with a beautiful wooden rail installed on which photos of our past Ministers will proudly stand.
The Picture Shelf Erected in the Vestry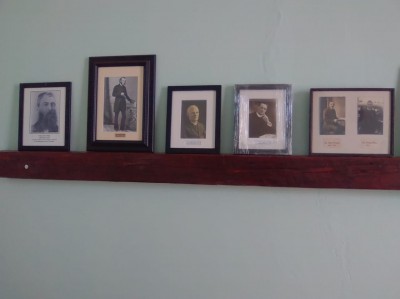 The Picture Shelf in the Vestry
A magnificent shelf of old wood has been erected on the Vestry wall where photographs of Ministers and Lay Preachers who have preached at Clumber are proudly displayed
Another break in at the Old School !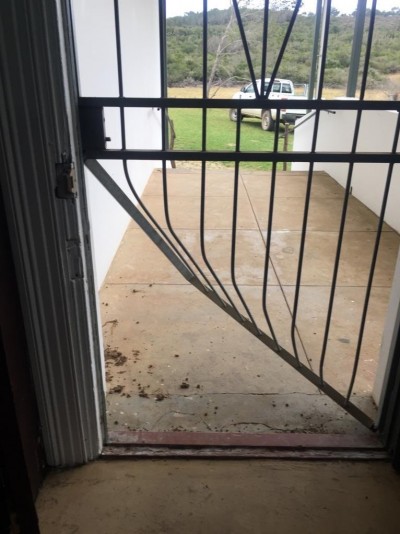 Front Security Door forced with Crowbar
Regretfully we have to report another incident of vandalization and theft; the old School was broken into at the end of August 2019. Whilst the items stolen are of minimal value ( 2 gas cylinders, 120 drinking glasses and a pump thermos) the vandalization was extreme. Crowbars were used to gain entry to the front door as well as the strong room. To achieve this two security doors as well as two standard doors, both with their sets of locks had to be breached.
We have no alternative now but to install a security system which will cost in excess of R 25000 and this will take precedence over all work which needed to be done after the burglary in February 2019.
Really sad and unfortunate that, due to crime, we have to invest in security measures rather than completing the upgrading to our facilities.
A SECURITY SYSTEM IS INSTALLED - SEPTEMBER 2019
Security Installed
We have finally managed to install a security system in both the Church and School. Hopefully this will provide a deterrent to those who wish to do damage and who have targeted these buildings as a source of plunder. Unfortunately the installation of a security system has attendant costs and this escalates our monthly expenditure.