THE CLUMBER COMMUNITY BUILDINGS EXPAND ON MOUNT MERCY
EARLY BUILDINGS ON MOUNT MERCY
 This is the earliest photo we have of the progression of the buildings erected by the Clumber Community on Mount Mercy and shows the 3rd Clumber Church prior to 1916 when a Vestry was added. It also shows that the current School is absent and this was built in 1905. In 1873 the second Church was demolished and a new schoolroom was built. We presume the building on the right (as you view the photograph), is this schoolroom. The perimeter fencing, erected in 1881, is evident so this photograph was taken between 1881 and 1905. The Schoolmaster's house is on the extreme left.
THE COMMUNITY FLOURISHES - FURTHER BUILDINGS ON MOUNT MERCY
 This photograph was taken at a time when the Hall was built in the same area as the first dedicated School building. The second School has now been built behind the Church. The Church is still without the Vestry which was added in 1916. As the School was built in 1905 and the Hall in 1913 the date of this photograph is between 1913 and 1916.
BUILDINGS TO MEET NEW NEEDS
New Buildings and Happenings
At the time of the opening of the third Church in 1867, the second church was still standing and was used for a variety of purposes. It was finally demolished in 1873 when a new schoolroom was built.
In 1889 a Manse was built and in 1905 a new school building. This was followed by the building of a Hall of the same dimensions as the Church, the cost not to exceed £275. The tender of Mr Hackart in October 1912 of £29-10-0 for erection was accepted. This wood and iron building lined with boarding was opened on 9 July 1913 and was erected on the site of the old school. Crockery bearing the Clumber name was purchased for use in the Hall. In 1916 Mr Henry Staples offered £350 to meet the cost of adding a Vestry to the Church. In 1934 a Lister lighting plant was purchased to replace the paraffin lamps which were still in use.
CROCKERY PURCHASED FOR USE IN THE HALL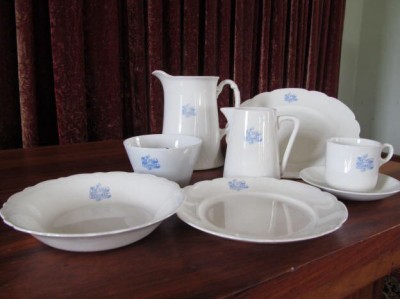 "The Hall Clumber" crockery setting
Crockery from Johnson Brothers
When The Hall was built in 1913 ( opened on 9 July 1913) the Church commissioned Johnson Brothers in England to supply crockery bearing the wording "The Hall" and "Clumber" joined in a blue ribbon. Milk jug, side plate, dinner plate, cup and saucer, sugar bowl, sweet bowl, water jug comprised the setting. Beautiful in plain white it is still in use today.
CLUMBER TENNIS CLUB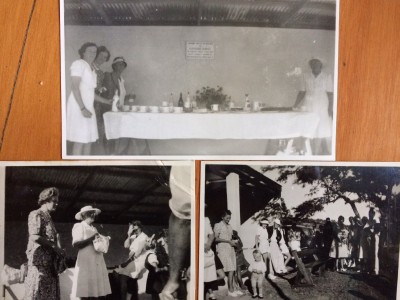 At the opening of the Clumber Tennis Clubhouse late 1940's
Clumber had an active Tennis Team which participated in the District Tennis Tournament. To support this, Grace Bradfield of the farm Bradville, erected a clubhouse in memory of her late husband, George. Sadly, the tennis courts fell into disuse many years ago and the clubhouse is now a ruin.
TENNIS CLUBHOUSE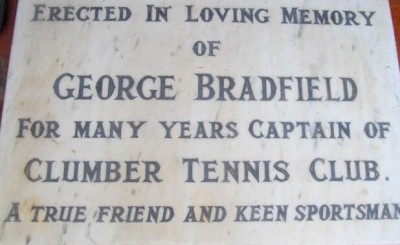 Marble Tablet in Clumber Tennis Club
Tennis Club
Grace Bradfield of the farm Bradville had this marble tablet installed in the Clumber Tennis Club Pavillion in honour of her late husband, Edmund George Bradfield