CELEBRATING THE 200TH ANNIVERSARY OF THE ARRIVAL OF THE NOTTINGHAM PARTY AT CLUMBER IN 2020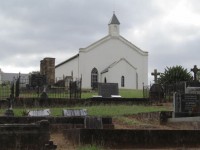 Clumber Church
200th ANNIVERSARY CELEBRATIONS
 There are many ways to celebrate and we feel that it would be good if the various families got together under their family banners and gather round a fire at a typical South African bring and braai. To those who are not familiar with South African customs this is a gathering around a fire for a barbecue where all bring their own food and refreshment. We will provide the wood or charcoal for the fires. This will give ample opportunity to renew old acquaintances and forge new friendships and maybe discover new families. The Common at Clumber Church has ample space for such a gathering. And this is the area , at the base of Mount Mercy, where the wagons rolled in on July 25 1820 with their precious cargo of the Nottingham Party. And this is the date for the planned celebrations; July 25 2020, a Saturday, and the exact date of their arrival, 200 years ago.
Prior to the bring and braai we plan to hold a Service in the Clumber Church at 12h00 as an opportunity to give thanks for the resilience and tenacity and God fearing nature of this very special group of people.
Prior to this gathering on 25 July 2020, Courteney Bradfield, a direct descendant of George and Mary Bradfield of the Nottingham Party, will be giving a talk on the Nottingham Party at Clumber Church at 10h00 on Saturday 8 February 2020. This in recognition of the Nottingham Party being all aboard the vessel Albury waiting for the final departure from Liverpool on the 13th February, 200 years ago. All are welcome to join us as we honour this very special group of people at an event which forms part of our Bi Centennial Celebrations.
Build these dates into your planning schedule and communicate with us on our email address on this site. We would appreciate hearing from you.